Let's say hello to Jill Jones of Bidwell Botanicals.
Based in Georgia, this company works hard to bring their customers the very best in skin care, naturally.
How do you believe your unique background of being a former nurse and organic gardener influences your botanicals and makes them different? How did you get started?
I worked in the health care industry because I wanted to help people. So it was a pretty direct path to what I am doing now. I made bath and beauty products for myself, family and friends for many years before deciding to learn more of the chemistry and then brought Bidwell Botanicals to life. I have been an organic gardener for dozens of years and that puts me in touch with what I grow and use in both our products and in our kitchen. I learn more every day about the benefits of botanicals and natural ingredients.
What are your best sellers and why are they amazing?
Our Shea Butter Sugar Scrub is our best-selling product across the board. Our customers love how easy it is to use and get fabulous results almost instantly! Who doesn't want soft, touchable skin right out of the shower? Not to mention the scents – like Limoncello and Sanguinello & Pomegranate. Yum! You really can't miss with any of the products or scents. We've got something for everyone.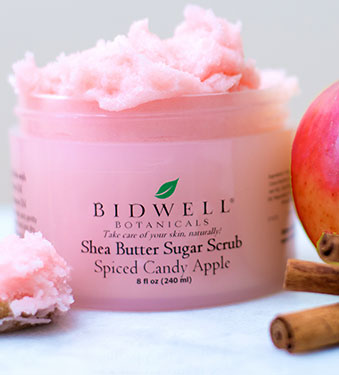 I noticed you have gift sets like the Spiced Pumpkin gift set ready to send to loved ones for the holidays. What is your favorite and why?
I love the Spiced Pumpkin gift set! It smells so good, warming and comforting. It really brings the holiday spirit to the lucky ones who receive it. The Spiced Pumpkin soap is especially awesome to use in the kitchen and it scents the whole room.
What type of promotions or special offers do you have and when would be the best time to get the best deals?
Look for our Super Holiday Sale starting the day after Thanksgiving that will combine Black Friday, Cyber Monday and awesome holiday savings, free gifts with purchase and free shipping! Details will be available on our Facebook page and on our website – starting November 22nd.
What new upcoming products and botanicals can we look forward to purchasing?
We plan to bring several new product lines out just after January 2017. Check the website and Facebook pages for sneak peeks during December. Think fresh and herbal and fun and fruity. 😉